Oil + Water Duos
Together, oil and water combine to deliver the maximum amount of nutrients to the skin, allowing both water-soluble and fat-soluble phytonutrients to be delivered to the skin in the most bioavailable form, when you need it, leaving your skin perfectly balanced.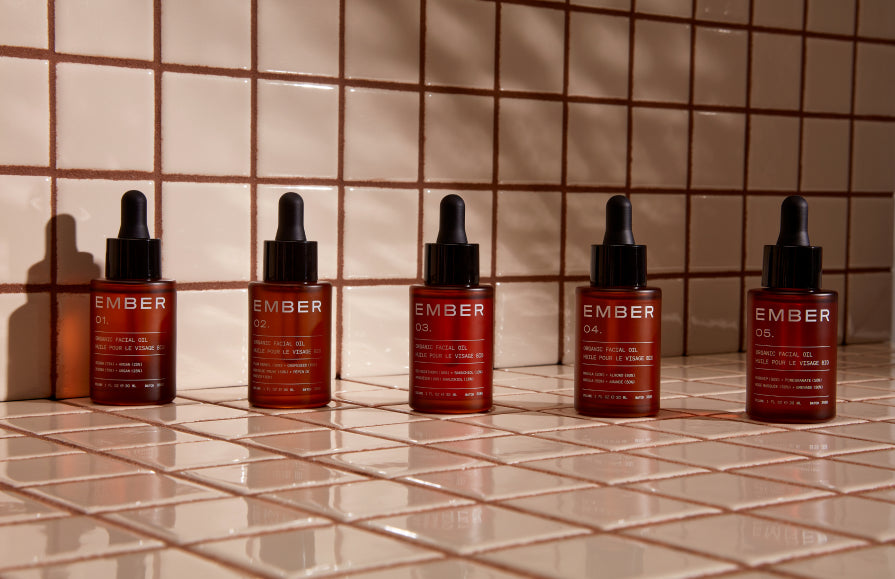 FACIAL OILS
5 cold-pressed, organic facial oils from 2 synergistic plant oils. Amplified formulations greater than the sum of their parts.
Hydrosols
Five pure, 100% natural hydrating flower waters, each one a complement to the facial oil of the same number.
TOOLS
Layer on some love and gently massage the face using one of our facial tools; heart-shaped facial gua sha, cloud-shaped body gua sha, facial cupping set, and our innovative Sculpt & Glow Bar.
The Sculpt & Glow Bar
This 3-in-1 zero waste bar sculpts like a gua sha, hydrates and protects your skin's barrier, and imparts a subtle glow thanks to sustainably sourced Mica.
Discovery Sets
Our skin care discovery sets are perfect for sampling our whole line or gifting to the skinimalists in your life.
Wares + Wear
Shop Ember's line of accessories for the skinimalist.