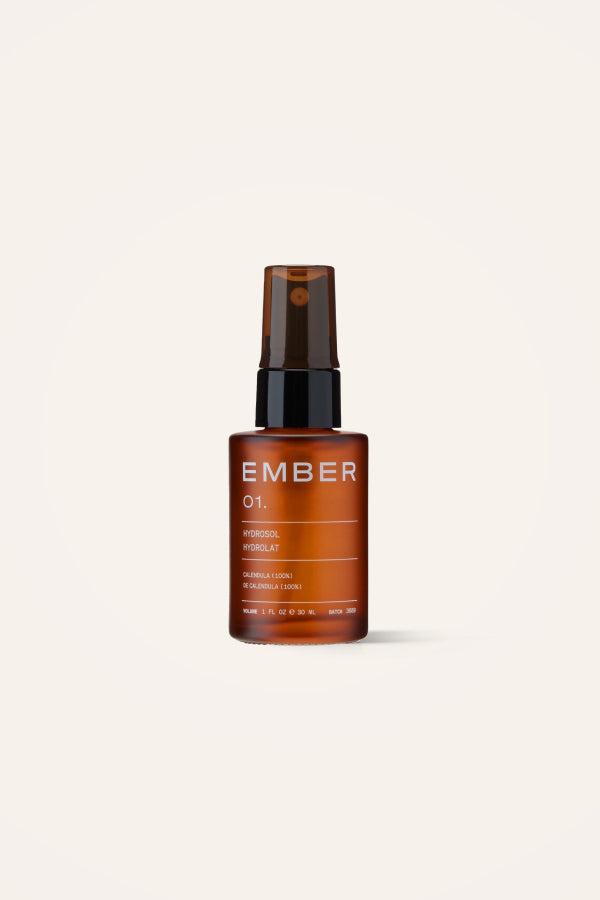 ---
---
---
Description
Sensitive Skin/  Calendula Water (100%)

Pure hydrating flower water.
Sustainably sourced plant waters deliver hydration to the face, neck and décolletage. Apply before, or mix with any oil from the Ember collection for optimal hydration, smoothing and softening.
Especially great for sensitive, teen and acne-prone skin, but is suitable for all skin types. Lab tested for identity, potency, purity and oxidation so the best, most efficacious derivative is guaranteed in every bottle.
Ingredients
Only 1 Ingredient/

100% Calendula Flower Water
Crafted with love via water-steam distillation of the fresh flowers of the Calendula officinalis plant, our pure and natural calendula hydrosol is a soothing, mildly sweet and floral mist that will please your senses. Calendula was valued by ancient Egyptians for its rejuvenating properties and is used universally to nourish and condition skin without irritation. This herb is said to encourage cheerfulness and positivity and acts as a natural toner. Sustainably sourced from the USA.
Lab Notes
Composition/ Calendula Water 100% (Calendula officinalis). All ingredients are sustainably sourced. Compounded in Canada.

Scent Profile/ Earthy, sensual 

ISO 17025 Laboratory Tested
External use only. Do not consume. Keep out of reach of children. Do not apply on an open wound.
Use
After cleansing, gently spritz 2-3 pumps of hydrosol on your face, neck and décolletage then follow with any Ember Facial Oil.
Calms irritation and redness
Calms and soothes a myriad of skin sensitivities
Sustainably sourced + lab tested
Scent profile:  mild, clean
"

Absolutely obsessed with this product, it is so hydrating and keeps my skin looking so dewy all day!
Beautiful product
I have to start with saying I'm a bit of a toner/hydrosol junkie so I have tried just about everything out there. This Calendula hydrosol is in a class all its own, like my title says it's really a beautiful product. You can feel it's so pure when you spray it on, which I have to say even the spray is impressive it mists on beautifully not just straight out so it doesn't reach your whole face. The scent is light and fresh not flowery or overpowering at all. My sensitive skin just loves it no redness, no blotchiness and no breakouts which has happened in the past with even high end toners. I will never be without this hydrosol it's a definite keeper. Their oils look impressive also and I look forward to trying their other hydrosols. Thank you for making such beautiful products.
Paula
My girlfriend loved this!
I bought this for my girlfriend as she was looking for an upgrade in her skin care routine. She said this kept her face hydrated the entire day without it feeling greasy. Great product, would recommend.
Amazinggg
Absolutely obsessed with this product, it is so hydrating and keeps my skin looking so dewy all day!