DISCOVERY SET / HYDROSOLS
---
All five travel-sized signature hydrosols
---
$115.00
Regular price
(

$145.00

value)
---
Description
Try them all. A collection of all five, travel-sized signature facial hydrosols at a reduced price.
Pure, sustainably sourced plant waters deliver hydration to the face, neck and décolletage. Apply before, or mix with any oil from the Ember collection for optimal hydration, smoothing and softening.
All 5 of our unique plant-based hydrosols for toning and moisturizing skin, each with its own unique psycho-emotional benefit. Feel a shift towards better wellness both emotionally and physically after using our Hydrosol collection. 
Suitable for all skin types, and the best way to honour the skin barrier and address skin concerns as the seasons change. Lab tested for identity, potency, purity and oxidation so the best, most efficacious derivative is guaranteed in every bottle. Comes in a convenient travel pouch.
Use
Gently spritz 2-3 pumps of hydrosol on your face, neck and décolletage then follow with any Ember Facial Oil.
DISCOVERY SET / HYDROSOLS
$115.00 USD
Regular price
$145.00 USD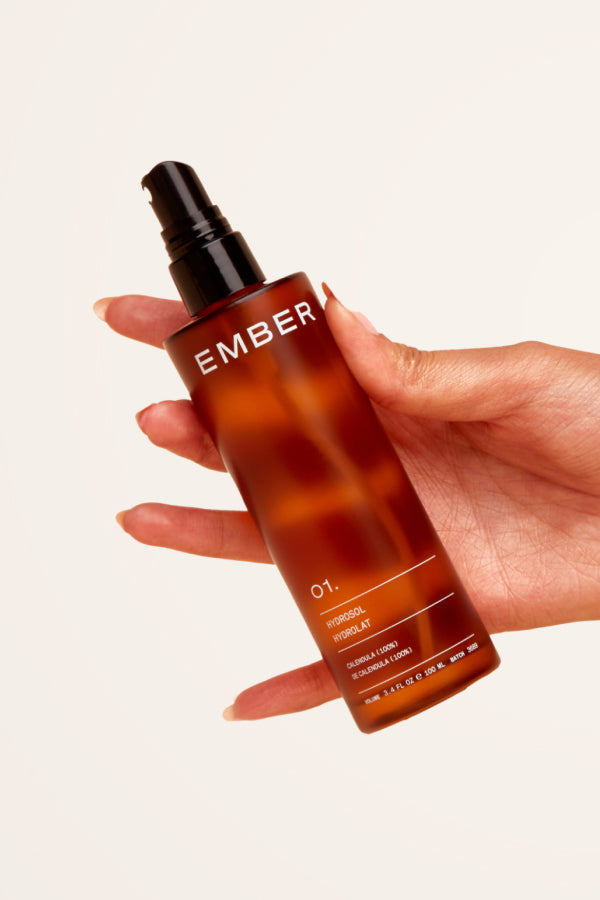 01/ Sensitive Skin
Calendula Water (100%)
Rejuvenating, nourishes and conditions skin, natural toner.

02/ Balanced Skin
Rose Otto Water (100%)
Captivating scent, hydrates, calms, and reduces redness.
03/ Mature Skin
Frankincense Water (100%)
Firming, balancing, heals skin irritation, anti-inflammatory and antiseptic.
04/ Dry Skin 
Mandarin Water (100%)
Rejuvenating, relaxing, calming, natural toner.
05/ Oily & Acne-Prone Skin 
Kewra Water (100%)
Sweet, delicate, fruity scent, healing properties, anti-inflammatory.